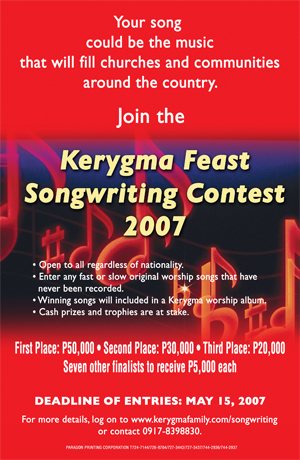 Sing for joy to God our strength;
shout aloud to the God of Jacob!
Begin the music, strike the tambourine,
play the melodious harp and lyre!" – Psalm 81:1-2
A few months ago, I entered the Kerygma Feast Songwriting Contest, entering two of my favorite praise songs, Magpasalamat (Purihin Ang Panginoon) and Superblessed. (I also used my legal name, which is James Michael Deen. Doesn't it sound so formal? HA!)
Well, last night, I received a call from Brother Alvin of the contest. He called to inform me that I made the finals of the contest – WITH BOTH SONGS!
I'm overwhelmed by God's providence. Left literally speechless. Last week at an early morning Wednesday prayer meeting at the Fort, this South African man named David prophesied that God heard the desires of my heart and told me that what I was praying most fervently for was coming. Little did I know what I thought was one answered prayer would grow into a floodgate of blessing!
These past few days have just been a wellspring of blessing, from my wife's safe arrival from Singapore, to the extra income brought in by side projects, to two very generous offers of new jobs (which I'd turned down, by the way, because I'm believing God will use me to spread His Good News in Makati City), to an unexpected blessing of something as trivial to others or important to me as shoes (yes, I'd been praying for new shoes, and I got a pair! More on that later).
This is what grace means. I get what I don't deserve. And when I do get it, the feeling is just… indescribable. Then you're just overcome with gratitude.
I am in the finals of the Kerygma Feast Songwriting Contest. With two songs. I can't believe it.
Congratulations to the other finalists:
1. Magpasalamat by James Michael Deen Quezon City
2. For Today My Heart by Chris Givenchy of Edejer Davao City
3. Aking Hesus by Ernigem Indac of Paranaque City
4. With My Imperfect Heart by Ma. Cecilia Datu of Paranaque City
5. I'm Yours My God by Ma. Cielito Michelle Tagaza of Taytay, Rizal
6. Forever in My Heart by Rea Gloria of Meycauayan, Bulacan
7. Superblessed by James Michael Deen of Quezon City
8. My Song of Worship by Bonifacio Tagadtad of Ontario, Canada
9. You Have Created Me by Allan Obias of Marikina City
10. Touch My Heart by Emmanuel Carlos Malibiran of Paranaque City
O make a new song to the Lord; let all the earth make melody to the Lord. – Psalm 96:1 (BBE)